Life's a beach: Top tips for the best beach day with your dog
Let's explore how to make the most of your beach day – while keeping your dog happy, safe and healthy
Summer is here! As the weather is continuing to get warmer, it's only natural that we want to take our dogs out and about with us on our travels, and there's nothing better than sea air to blow away the cobwebs. Plus, beaches are wonderful places for our dog to explore. As dog-lovers, even though we love taking our furry friend everywhere with us, we must be mindful of the temperature, location, and conditions of where we are planning to take them. 
Whether you are lucky enough to live near a beach or not, you must make sure that you have chosen to visit a dog friendly beach before you set off on your travels – to ensure you do not have a wasted journey! Since many beaches choose to restrict dog access throughout the months of June to September, it's important to be aware of any local restrictions, whether that be time or area restrictions.  To help in your search, take a look at this list to find the top dog friendly beaches in the United Kingdom. We also recommend checking the local council website for any updates and adhere to advice given on the signs that are located around the beach itself. Fortunately, restrictions are often relaxed outside of peak season – so you may choose to only take your dog to the beach during less busier times, and when the weather tends to be cooler.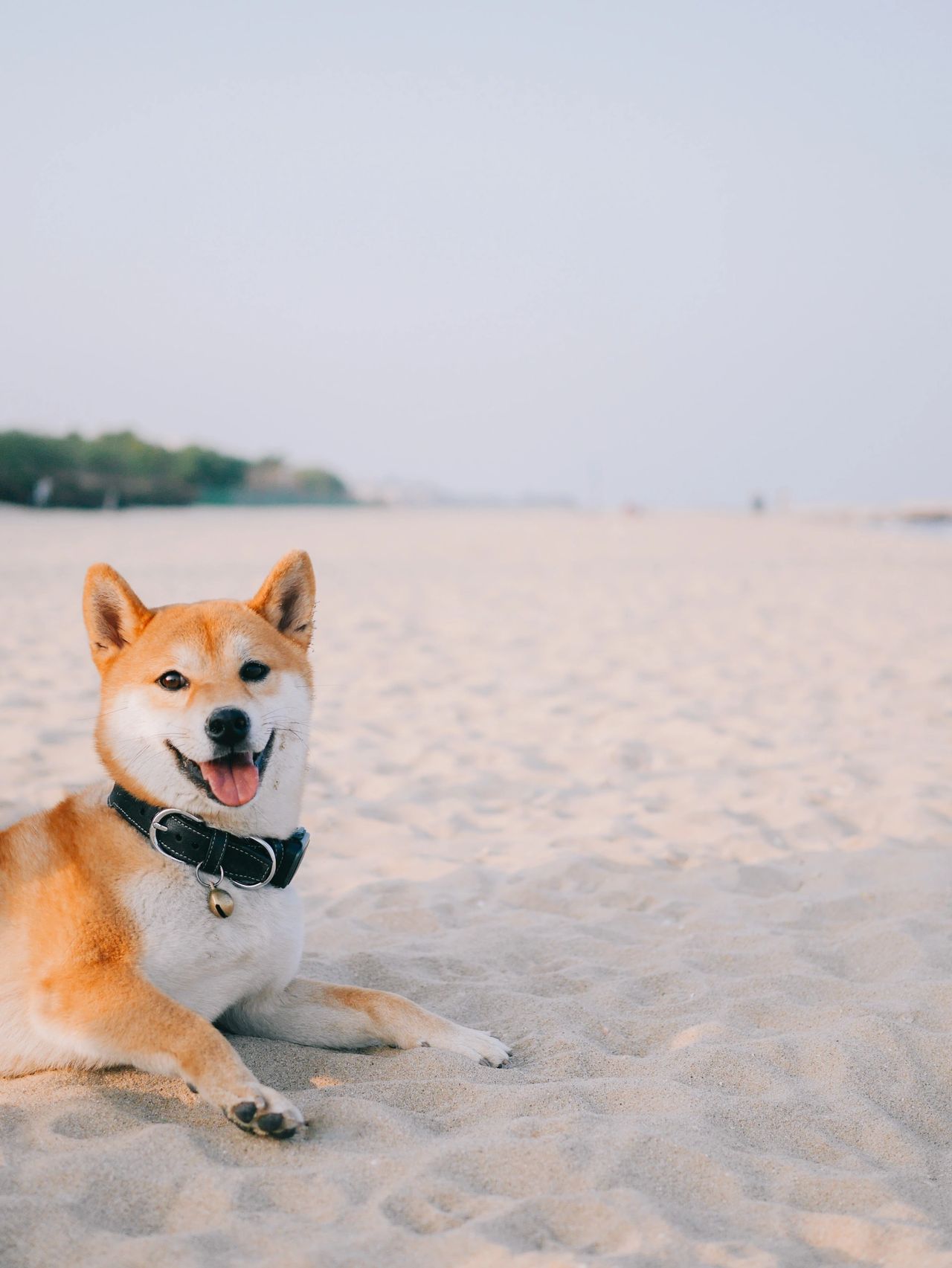 Check the forecast:
Sunshine tends to cause most of us to head to the coast. Even though the prospect of going to the beach sounds an excellent idea, it's vital that we first check the forecast for our dog.  
If your dog's body temperature reaches above 40°C, they are at severe risk of heatstroke. Dogs are most at risk of suffering from heatstroke if they are without water, good airflow, or shade – so it's important to make sure your dog does not go without any of these essentials. Any dog can suffer from heatstroke, yet some dogs, such as large, energetic, and flat-faced dogs can be more at risk. Click here to find out more about heatstroke, including the key signs and symptoms to look out for. 
As responsible dog parents, it's our job to protect our dog from harm – so checking the forecast must be at the forefront of our minds. Take extra care to always carry water and something for your dog to drink from – such as a collapsible bowl. Also, it has been recommended to attach the lead to a harness, rather than attach the lead to a collar. Attaching the lead to a collar can press on the airways, which can prevent your dog from cooling down as effectively as they normally would.  
Do the groundwork: 
Remember, as the weather gets hotter, so does the ground your dog is walking on. Hot pavement or sand can burn the foot pads – and this will not only cause serious harm to your dog, but it will also increase their body temperature and contribute toward heatstroke. A good way to test the temperature is to place the back of your hand on the ground for 7-10 seconds. For more information on this, take a look here.  
Sunscreen is always a good idea: 
Just like humans, dogs can suffer from sunburn, and it's our job to protect their skin when they are out and about with us on our travels. A dog suffering with sunburn will typically exhibit red skin and inflammation, which can lead to irritation and pain. In even worse cases, this can lead to hair loss and skin cancers. If there is a chance of sun exposure, then we recommend you use an appropriate dog friendly sunscreen – taking particular care to cover the nose, lips, ears, and tummy. A dog with short hair, and even a dog with white fur is more susceptible to sunburn. It's important to purchase a sunscreen for canine use, as some lotions can contain ingredients that are toxic to our dogs.
Rinse off the day: 
When you and your pooch have finally finished for the day, make sure to offer your dog water and cool them down. If your dog has been on the beach and in the sea, saltwater and sand can irritate their skin – particularly if left to dry. It's important that you rinse off your dog's legs and any other body part that has been in contact with saltwater and sand, and make sure to dry them completely before taking them home. When you're home, you may want to consider bathing your dog properly with warm water and a canine shampoo – so that your dog can have a good itch-free snooze.
Remember to have fun: 
Even though there are a lot of things to remember when taking your dog to the beach, it is important to have fun. Take toys and enjoy yourself!
Share