Dog Parenting 101: 7 ways to reduce clutter & get organised
Planning a trip? Here are our top dog parenting tips to get you and your pooch organised with the PawPack dog travel bag 
It is no surprise that our dogs add richness into each of our lives, and as dog owners, we love our dogs the same way we would love a close family member, or a best friend. We indulge in our dogs by buying them yet more toys (even when there is no room left in their toy box), treats, luxury coats, harnesses, and anything else that promises to add a little more extra comfort, joy, and happiness into their lives. This means that you soon become the designated owner of not just a dog, but many more doggy items that occupy precious space throughout your home, car, and environment. All of these things mean so much to our dog (and to us), but they can also make clearing up after our pooch and packing for days out that little bit more of a challenge.
Disorganisation: How can it affect you? 
Even with its many benefits, decluttering your home (and life) can be an overwhelming task for anyone to undergo. Decluttering can be particularly challenging for those of us who may already feel too busy to begin the 'clear-out' phase in the first place, which we know will only compound the issue going forward. The ability to clear clutter from our lives has a profound effect on our mindset and how we feel, and can also influence our productivity and stress levels. Being surrounded by a cluttered environment can steal our energy, time, and happiness, which, in turn, causes us to become easily distracted, exhibit poor focus, and indulge in unhealthy eating habits with a heightened level of procrastination and mood swings – not a good outcome! 
Maximising organisation 
A cluttered and disorganised environment has been linked to stress, which consequently reduces our immunity, impacts our sleep cycle, and contributes toward weight gain, heart disease and memory loss. A published scientific study has proven that mothers who described their homes as "cluttered" displayed a hormone profile that indicated they were suffering from chronic stress, low mood, and tiredness. 
"Your beloved dog requires nearly as many things as a young child, so it is important to keep organised to ensure we give our dog, family and friends the best version of ourselves – without the unnecessary problems that result from a cluttered environment."

 
In order to combat clutter, you have to find new ways to invite more organisation into your life. For instance, when you can find items easily, and everything seems more structured throughout your home and workspace, you tend to instantly feel calmer, and life seems a little less complex. Becoming more organised means you can wave goodbye to the disorganised version of yourself who would lose critical documents, miss important deadlines, and live within a constant state of stress. Instead, you can begin to revel in a more positive mindset, accomplish more in less time, with extra space, better sleep, improved relationships, and also the ability to focus like never before.
Dog parenting: A pampered pooch 
As dog lovers, we take our dogs anywhere and everywhere with us, whether that be on holiday, to the park, and even to work. Your beloved dog requires nearly as many things as a young child, so it is important to keep organised to ensure we give our dog, family, and friends the best version of ourselves – without the unnecessary problems that result from a cluttered environment.
Making life easier with a dog 
There is hope! We can help streamline the chaos by offering a solution to declutter and simplify this particular aspect of your 'dog parent' life. The need to be more organised and have less clutter while travelling with our dogs inspired one of our founders, Carrie, to create Pawfect Explorer™ – a family-run business of true dog lovers (or rather, should we say, Dog Mamas), dedicated to delivering high-quality, smart, affordable travel solutions.
During the early months of caring for her Miniature Dachshund, Reggie, she began to understand how hectic and time-consuming packing and storing all of Reggie's dog essentials could be. This is when the PawPack was created, a practical travel bag, crafted to solve all your dog travel needs – so that your pooch can explore every adventure with you. Whether you are storing the bag in the kitchen, throwing it in the back of the car, or taking it with you to your dog-sitter, it just makes life that little easier for us dog parents. 
The PawPack was created with organisation in mind, helping you to be more prepared and ready to go, so that your dog never has to go without. You no longer need to waste valuable time searching for items, packing multiple bags, and adding to the clutter – so that you can spend more valuable time with who matters the most, your dog.
Meet the PawPack: 7 simple ways to get organised once and for all 
1. Always pack the essentials
We know how difficult it can be to pack all your dog's things into one dedicated space, especially when you're planning to go on your travels! From storing towels, treats and toys, to water bottles, medical supplies, dog wipes, leads, poo bags and more – the PawPack is just what is needed! It has been designed with multiple internal and external compartments, along with a detachable Velcro board created to fit perfectly within the centre of the bag – so that you can easily store and slot in all of your belongings. Plus, we also have included a secure zip compartment on the lid, two compartments on the side of the bag, two pockets on the front, and a net pocket on the back of the bag for even more storage. 
2. Staying fuelled and hydrated 
We know how important access to food and water is for your pooch, especially when they are on the go. The PawPack features two separate food compartments, which are moisture-proof and foil lined to keep your dog's favourite cold food and treats fresher for longer. Our food compartments are ideal for dry food storage, and also for transporting wet food tins and pouches. 
Plus, your dog can't eat and drink without their designated bowls, which is why we have included two collapsible food and water bowls, so that your dog can easily keep fuelled and hydrated wherever they go.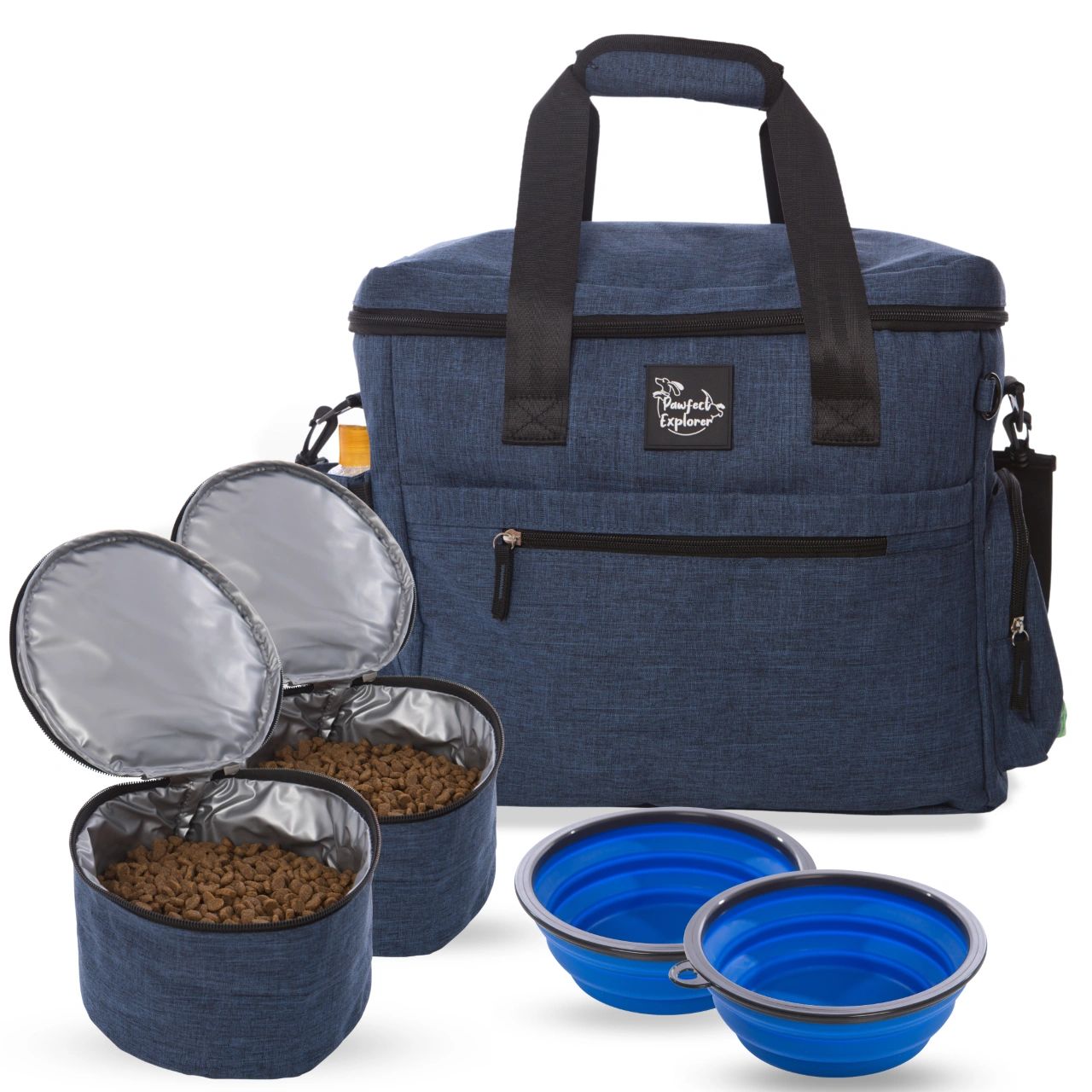 3. Keep things fresh 
Since dog food can get a little messy, the PawPack has been designed with low maintenance in mind. Thanks to the water-resistant interior lining of the bag, and the additional two food compartments, you can now easily clean and wipe down the surfaces without any hassle.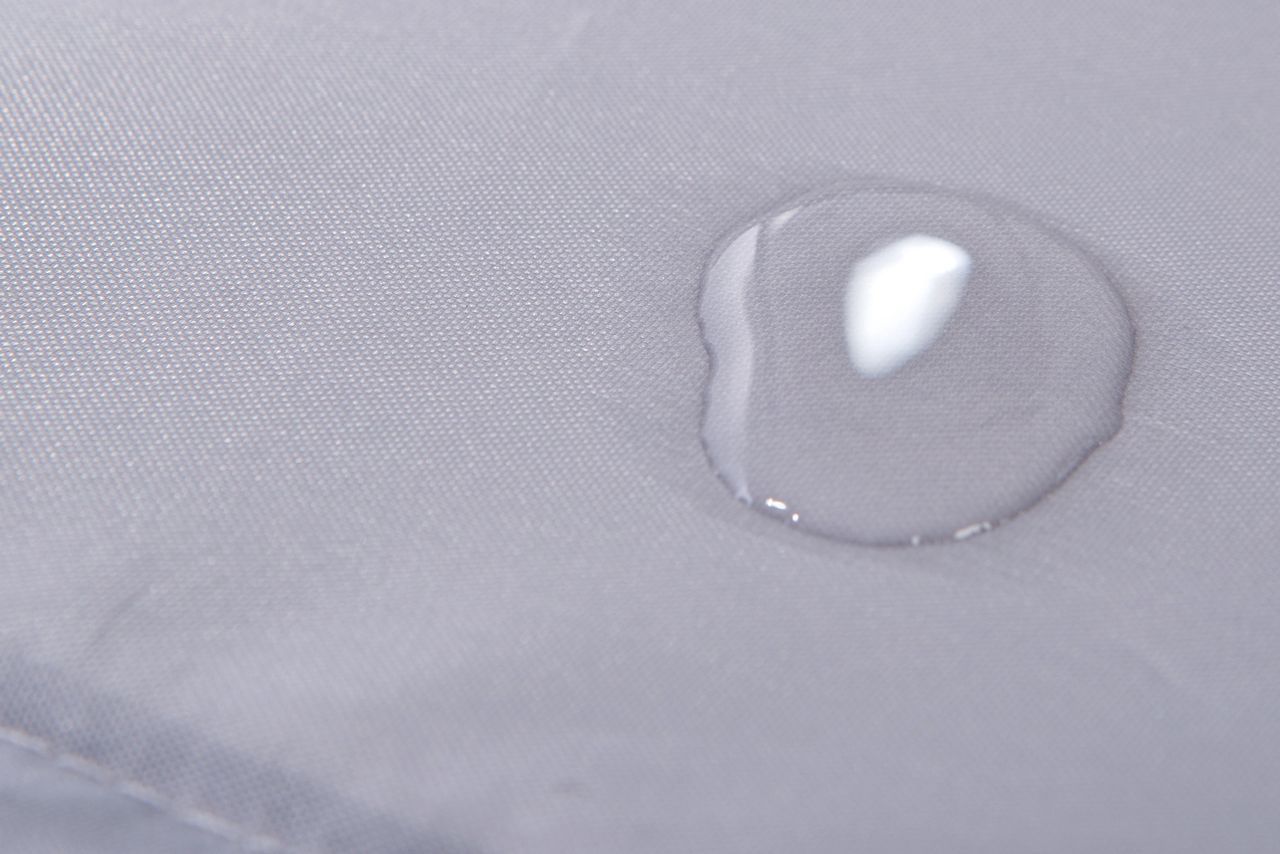 4. Spotless streets
As dog owners, we can never have enough poo bags. With the built-in poo bag dispenser, all you need to do is simply slot a roll of poo bags into the side compartment of the PawPack and pull out a few bags when required. Our built-in dispenser means that you no longer need to riffle through your bag or coat pockets. Plus, you'll have poo bags whenever you need them, and they will be easy to find, since they are situated on the exterior of the PawPack! 
We also recommend that you use biodegradable bags, since these are tough, durable, and have reduced environmental impact, whilst mimicking the effectiveness of a plastic bag.
5. Keep the meds in check: 
The PawPack caters for every detail – keeping all your belongings neat and organised – which is something we all need a little more of! The PawPack includes exterior and interior pockets to store essential medication, leads, collars, water bottles, a first aid kit, dog wipes, and other pet essentials – so your dog never has to go without. 
6. Let's fly away: 
Perhaps you are taking your dog abroad or further afield? The PawPack is airline approved for the majority of airlines, measuring at 36 x 6.5 x 32.5 cm, allowing you to transport all of your pet essentials in one place for a stress-free flight.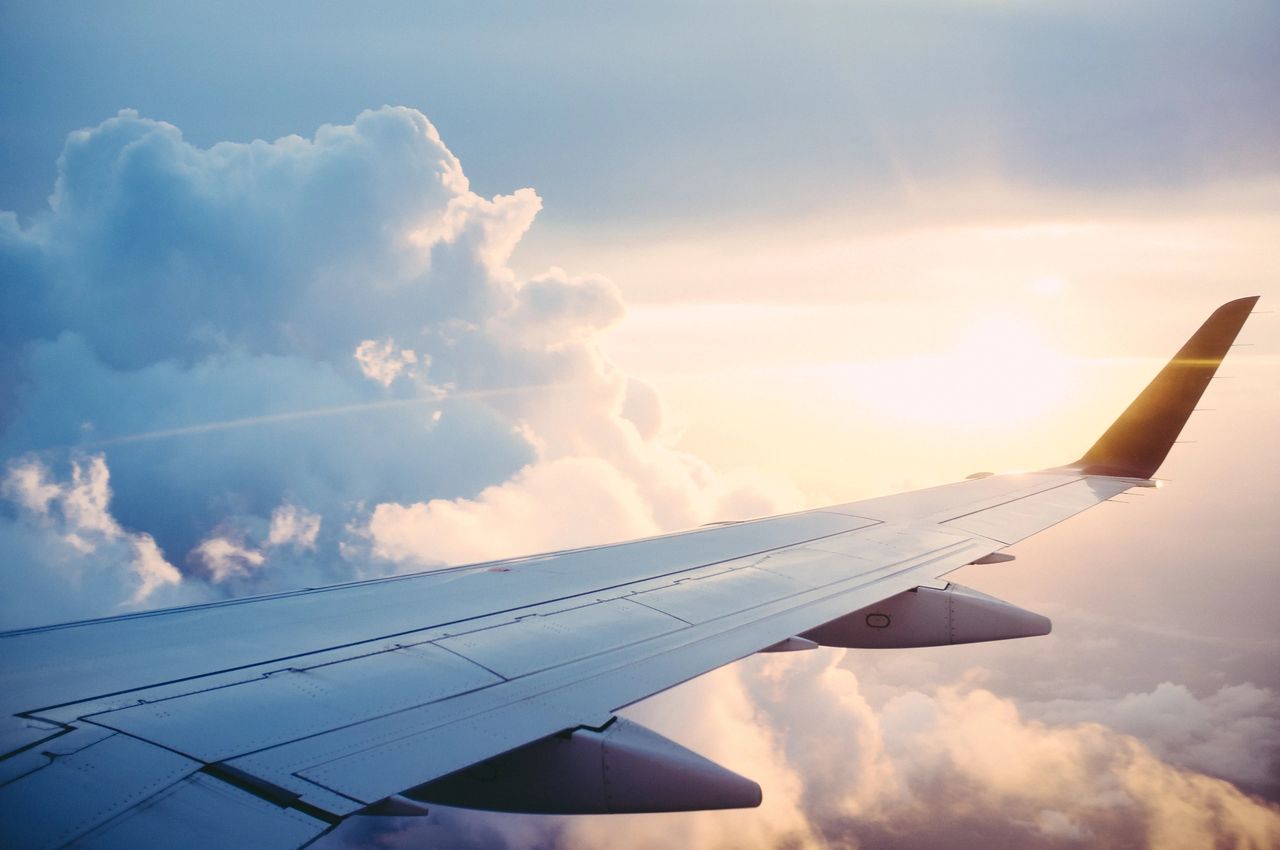 7. Comfort on the go: 
Our bags have a removable and sturdy long shoulder strap, and a strong shorter handle to make carrying all your dog items effortless. Whether you're walking through the airport, throwing the bag in the car, or storing your bag at home in the kitchen cupboard or pantry, your dog will have all their things in one dedicated space.
We believe our PawPack is simply a must-have for all dog-lovers. With our PawPack, you can begin to take small steps to get more organised, which often leads to the biggest results. Remember, more organisation means increased productivity, less stress, better health, and with the PawPack, you can get on the move with your dog, family, and friends as quickly as possible. Sometimes these small changes can end up making the biggest difference in our lives, and the lives of our dogs.  
References:  
No place like home: home tours correlate with daily patterns of mood and cortisol – PubMed (nih.gov) 
Share